Whether she's singing on stage in front of thousands on the Born Pink World Tour or meeting French president Emmanuel Macron, Lisa always seems to nail her outfit
She's already wowed in several Celine looks, including a gothy feathered outfit for Paris Fashion Week, paired Thai brand Canitt's cropped blazer with a Bulgari Serpenti necklace, and rocked ADLV too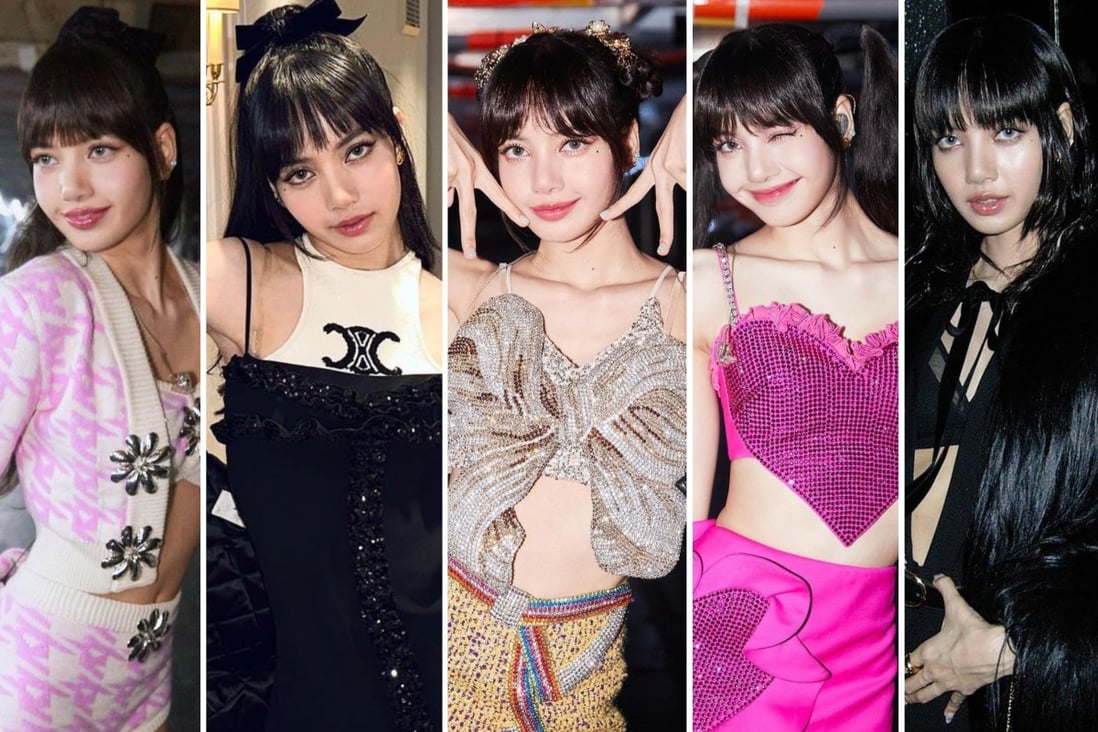 Blackpink's Lisa has been setting fashion trends since the day she debuted with an edgy, show-stopping style that is only continuing to evolve and captivate more fans as time goes on.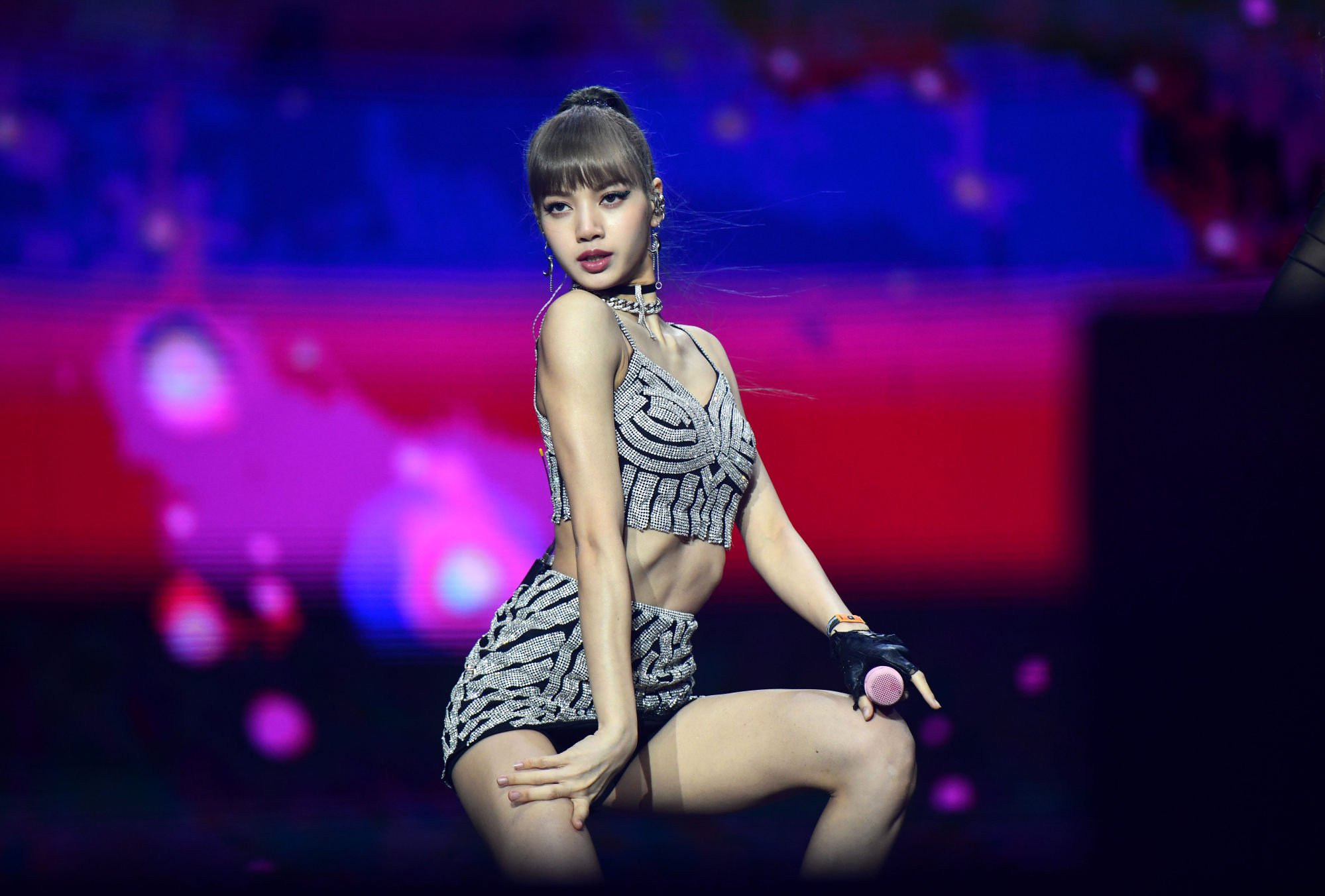 Thanks to her striking onstage outfits and chameleon-like ability to mix it up while off duty, the Thai K-pop star is a true fashion force to be reckoned with, inspiring fans around the world to emulate her fearless fashion choices. Lisa Manobal is also the most-followed member of Blackpink on Instagram, boasting 88.8 million followers at the time of writing.
Lisa has also earned herself the nickname "human Celine" from fans (in the same way her group mate Jennie is known as "human Chanel") thanks to her influence on the Parisian brand. Every fashion show she attends provokes a furore and causes pieces to sell out fast. She is also a brand ambassador for fashion house Bulgari and Mac Cosmetics.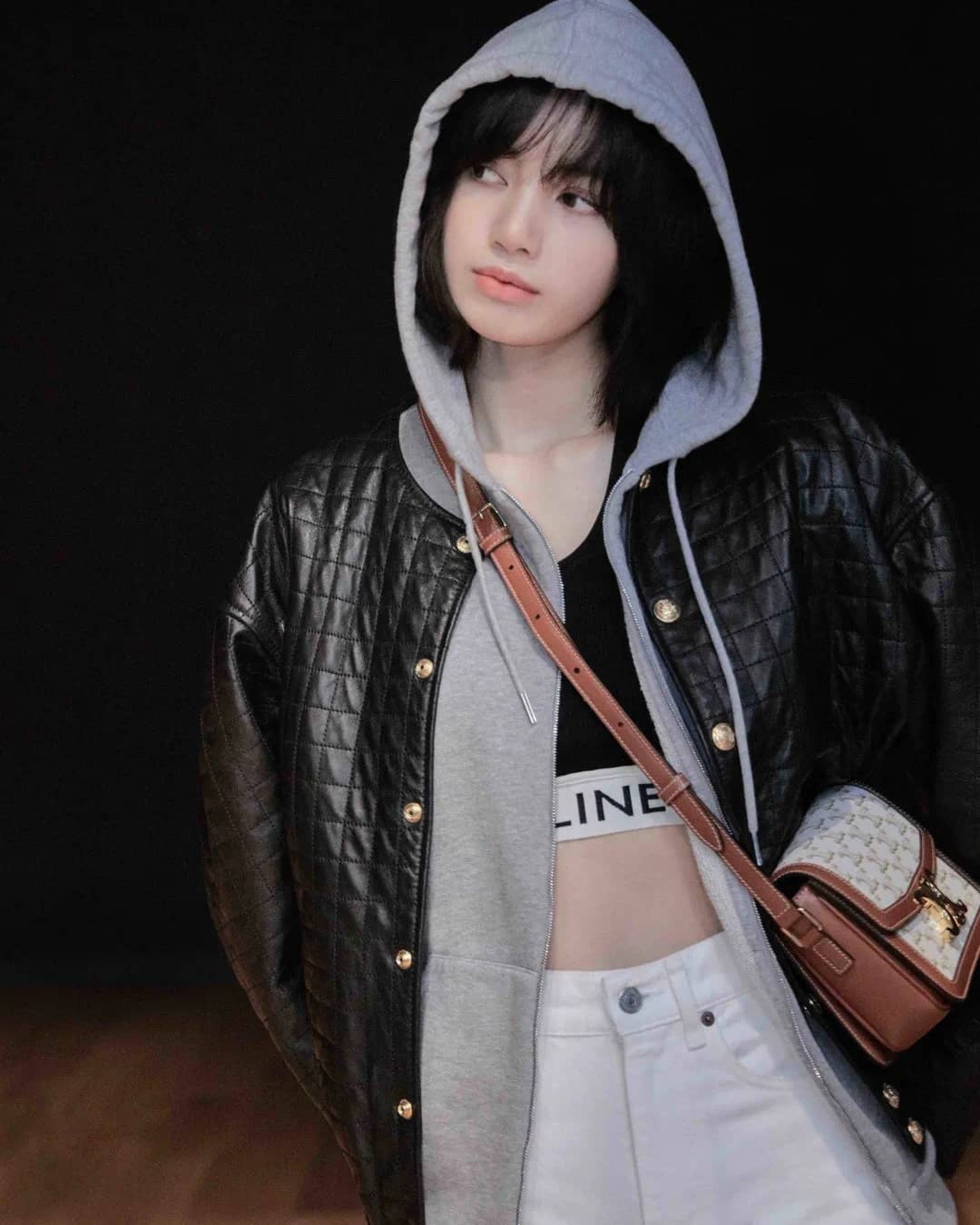 But what makes Lisa's fashion game stand out is that every one of her looks is boldly individual.
We're not even two months into 2023, and the 25-year-old has already served up some of her most iconic looks to date – from the outfits she wore on Blackpink's world tour, to her meeting with French President Emmanuel Macron. Here are our favourites so far …
1. Celine striped cardigan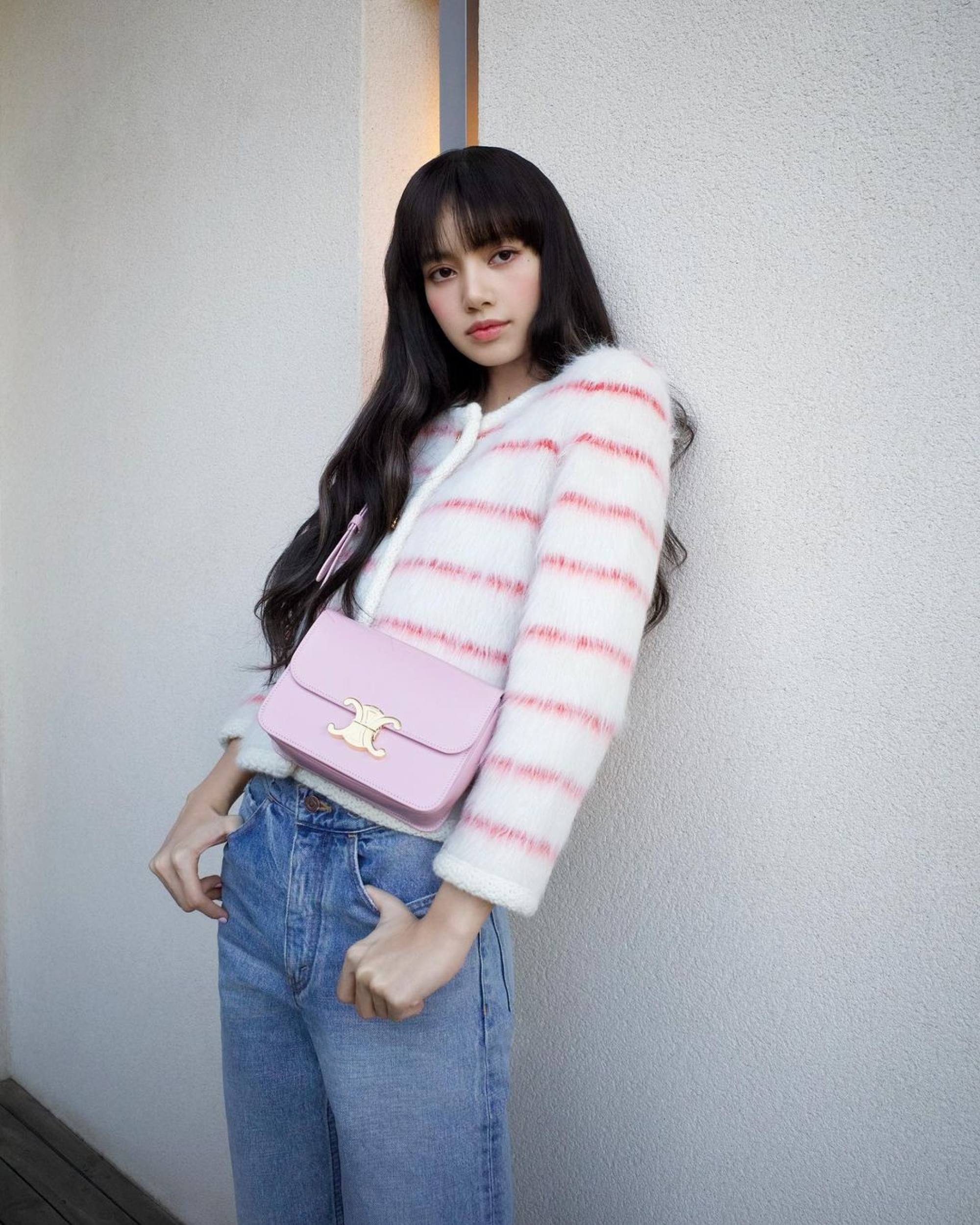 Setting a tone for the year ahead, the "Money" singer donned a soft Celine striped cardigan and a pair of jeans on January 2, and topped it off with the brand's Teen Triomphe bag in baby pink. This very casual yet ethereal daytime look went down a storm on Instagram.
2. Exquisite crystal bow top from Area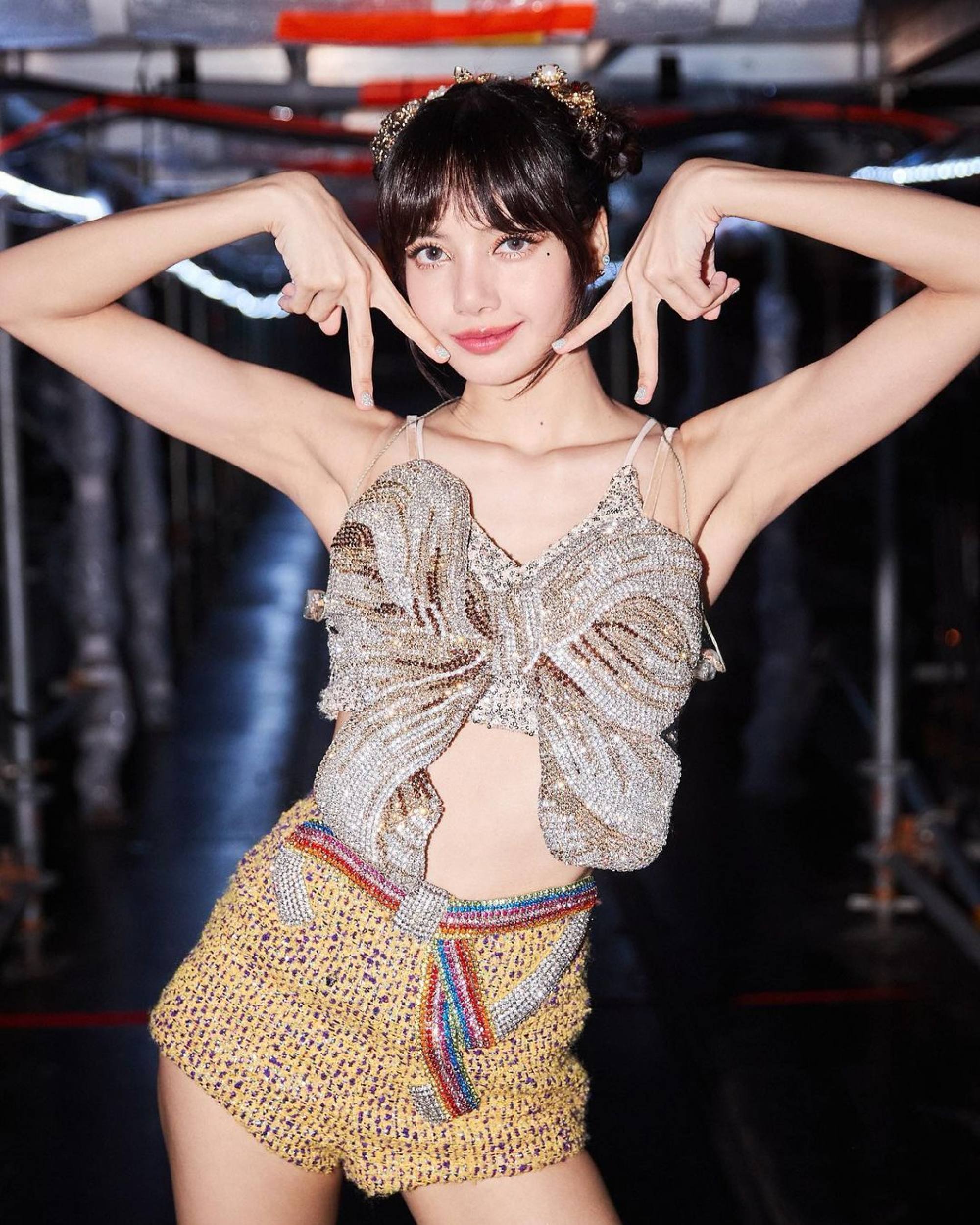 During the Born Pink World Tour's hometown stop in Bangkok on January 7, Lisa sported Area's embroidered crystal bow top in light gold, and shorts in yellow with an interwoven design.
3. Area's heart-shaped top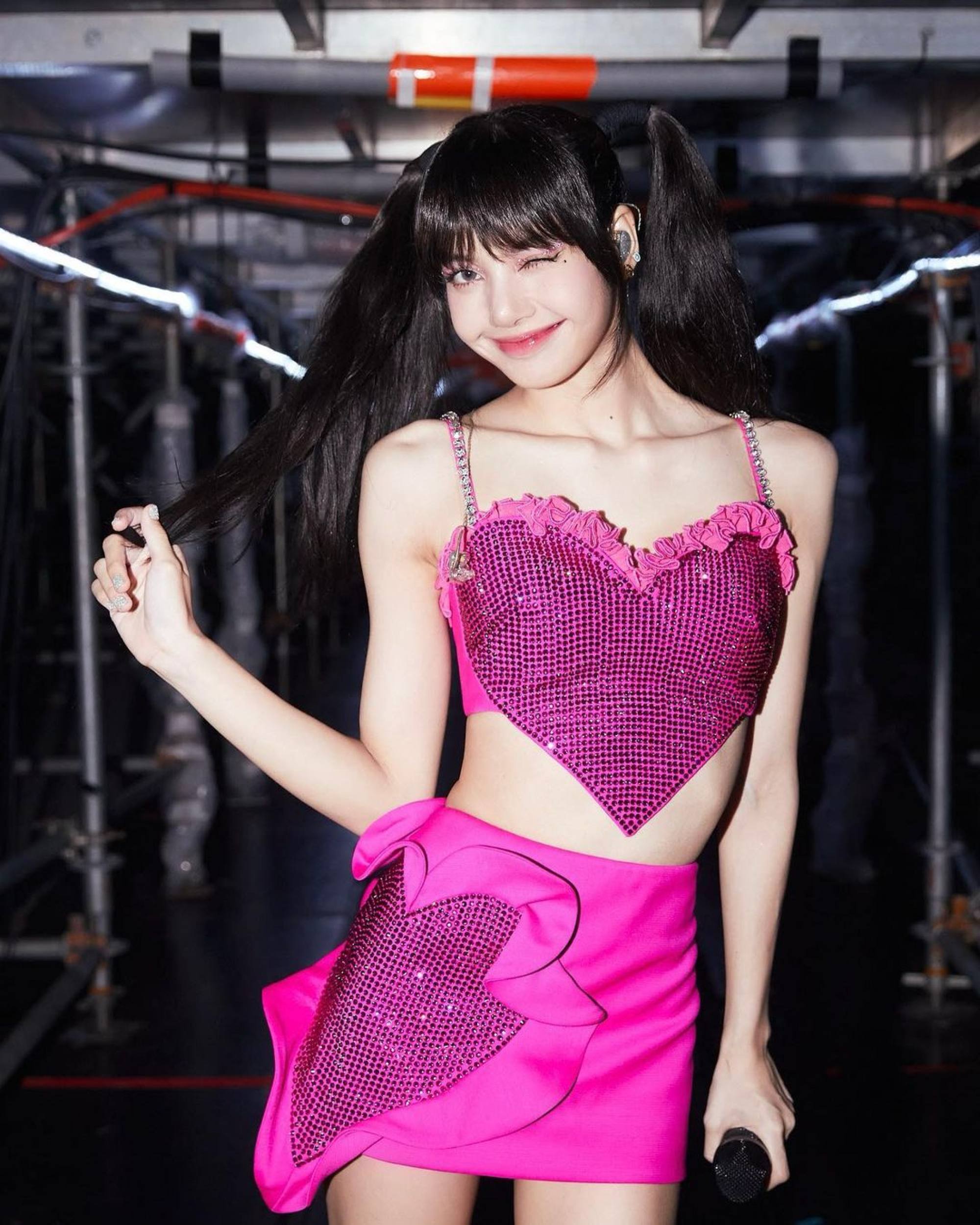 Lisa donned yet another chic ensemble from NYC-based fashion label Area during the tour. The fuchsia top features crystal embellishments and pairs with the brand's mini skirt that has a giant ruffled heart on one side.
4. Canitt's two-piece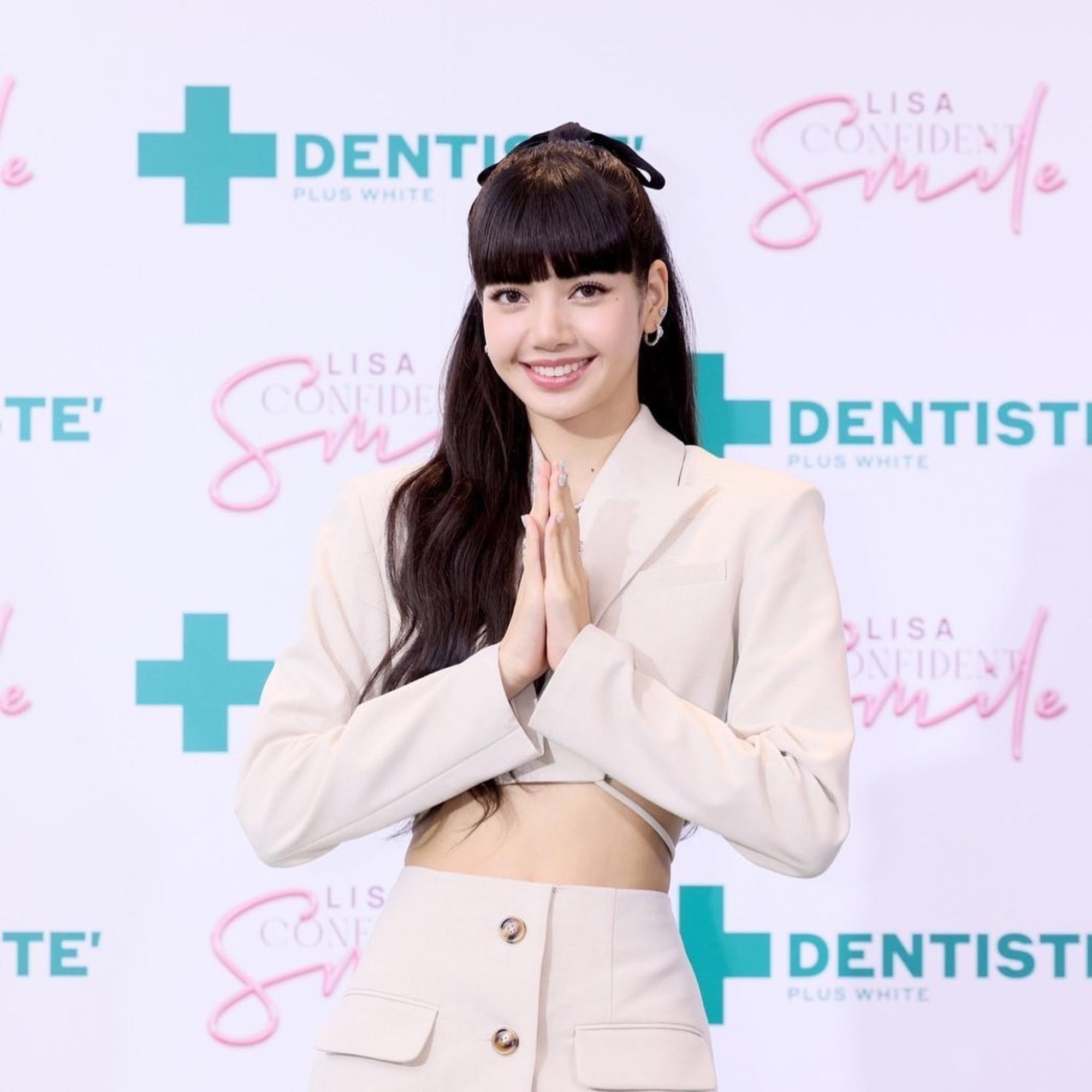 During an event with Dentiste in Bangkok, Lisa looked cute in a cropped beige blazer mini skirt from home-grown Thailand label Canitt. She cannily completed the look with a Bulgari Serpenti Viper necklace.
5. Her Parisian Celine dress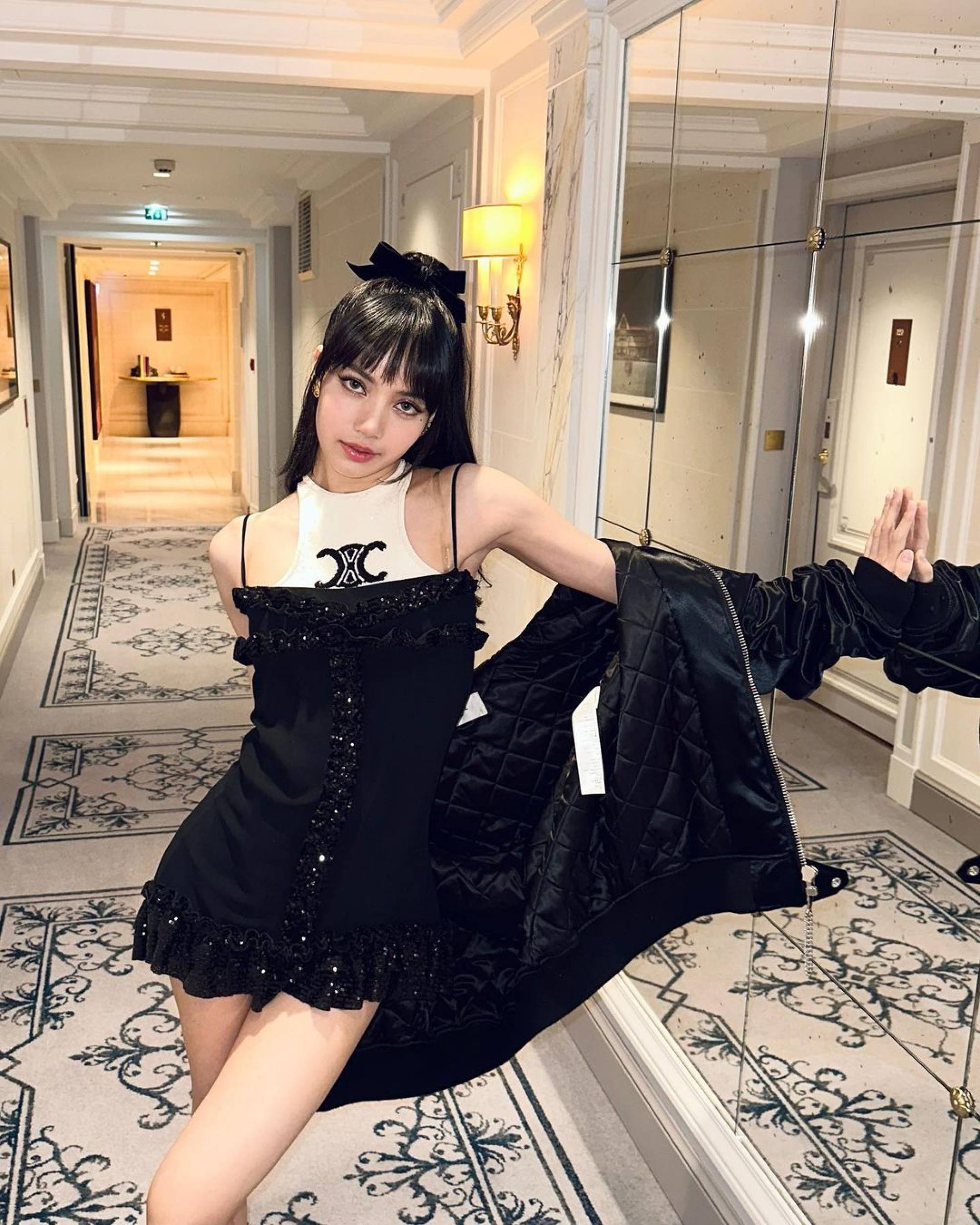 During her stop in Paris, on January 27, Lisa once again proved why she is the queen of mix and match ensembles. The singer posted a picture of herself wearing Celine's sleeveless athletic dress in white underneath an adorable LBD and chic black bomber jacket.
6. Her flower ensemble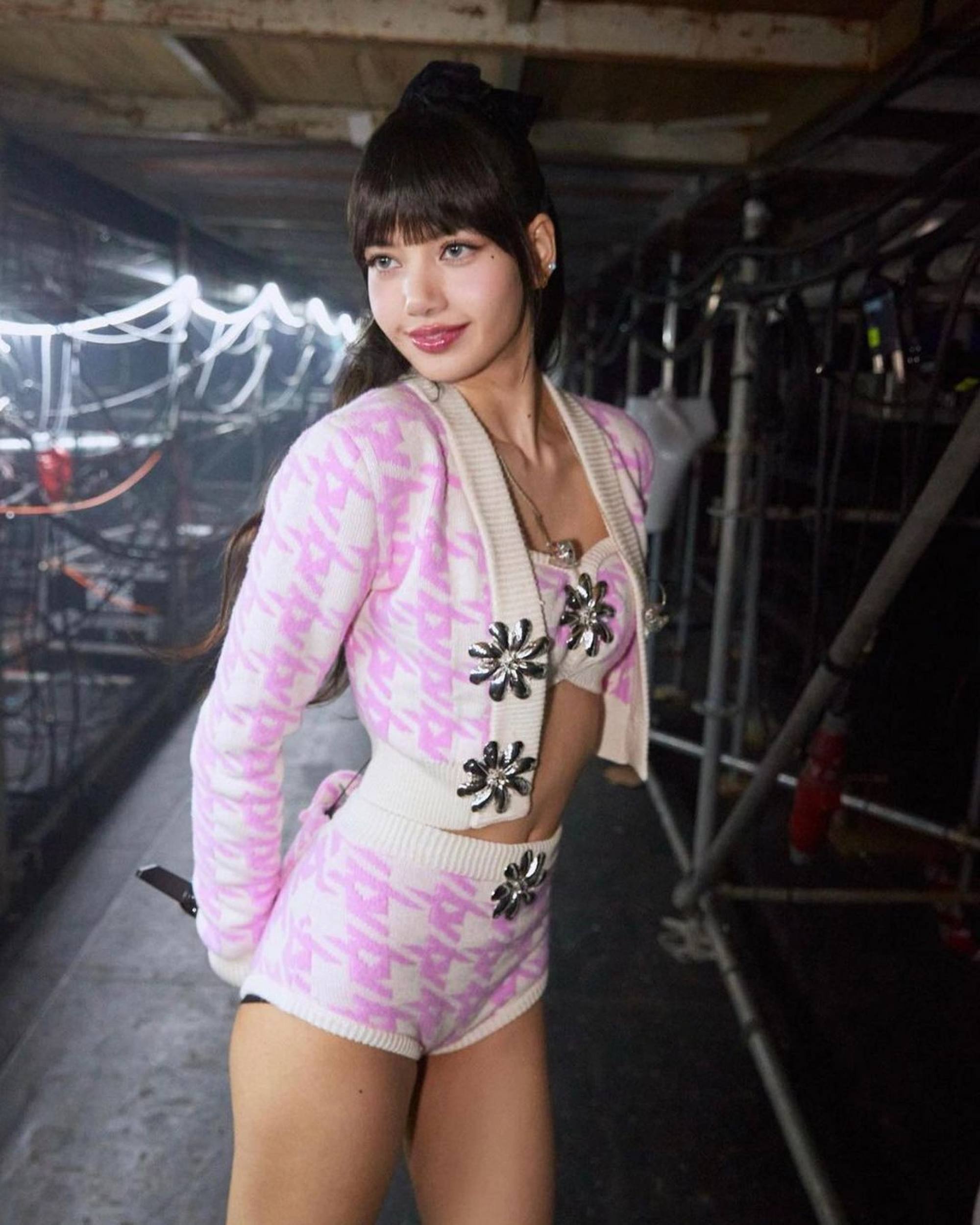 Backstage at Blackpink's Hong Kong concert in January, the powerhouse performer donned another Area look: a pink flowery ensemble comprised of a houndstooth knit cardigan, bandeau top and hot pants.
7. Alice & Olivia leather halter top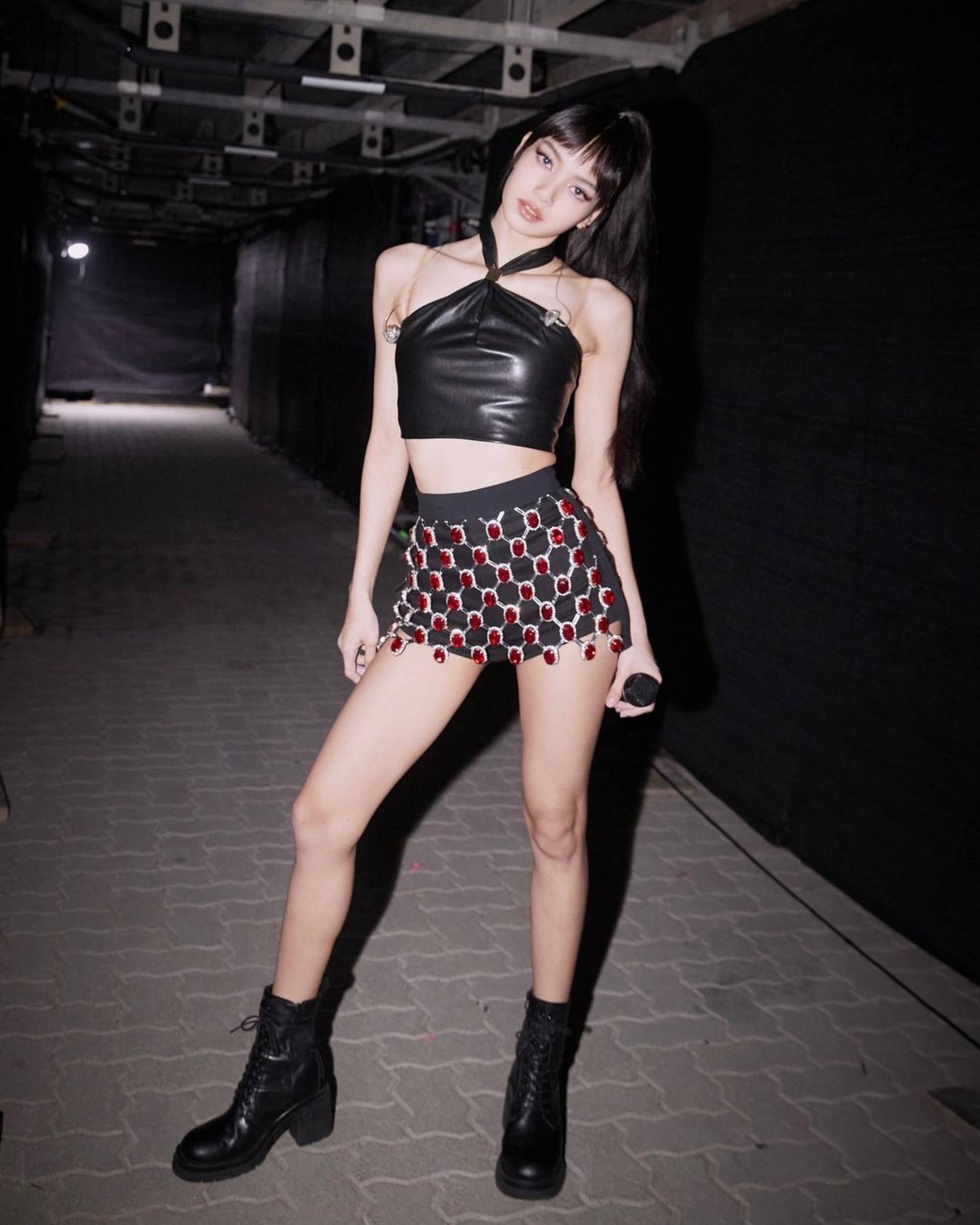 For her Born Pink performance in Abu Dhabi, Lisa turned heads in a sexy leather ensemble, including a sleek black leather crop top from Alice & Olivia, which she paired with a David Koma mini skirt adorned with stunning red rubies that dripped and glistened with every move.
8. Black and white striped glamour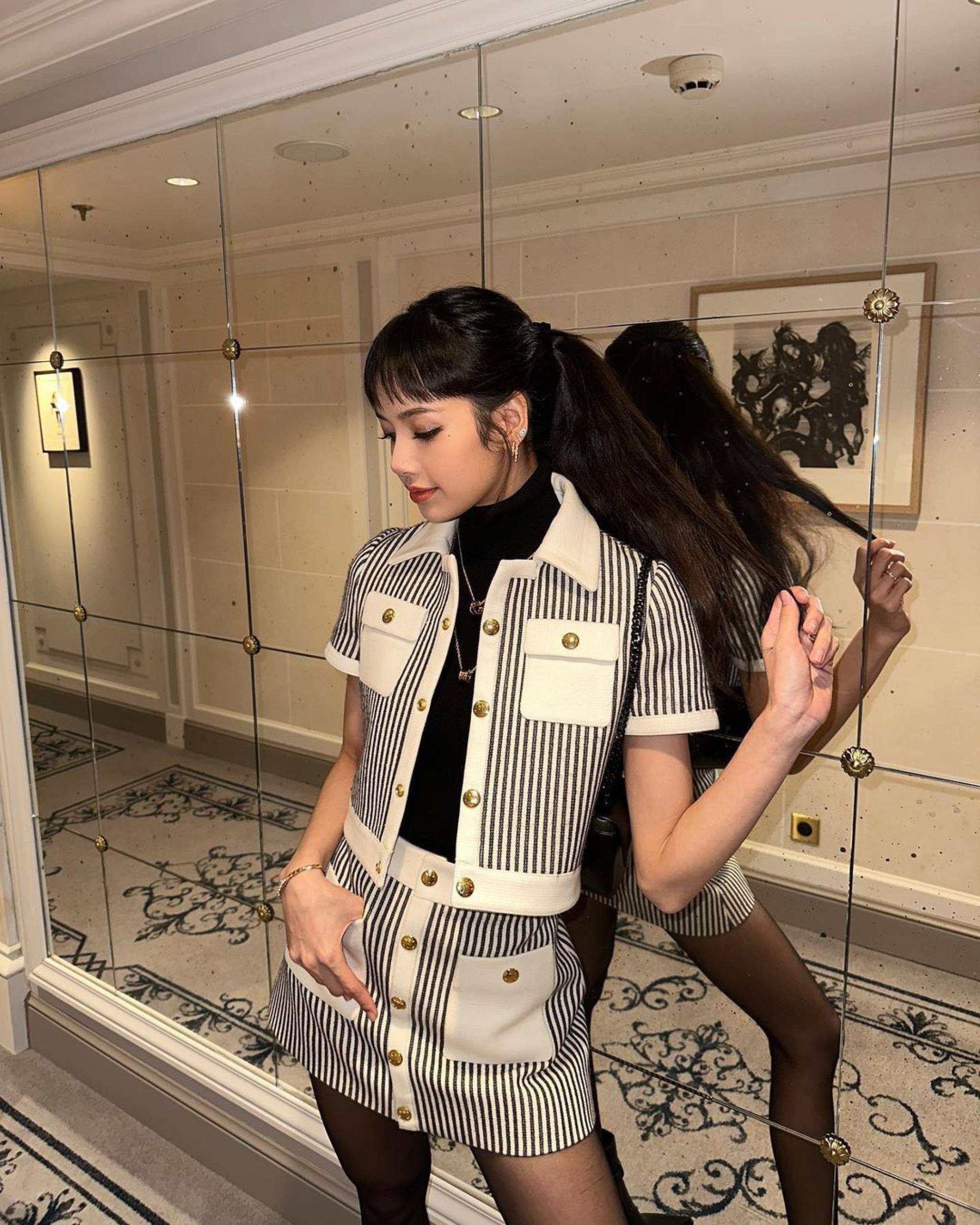 During the Le Gala des Pièces Jaunes charity concert in January, organised by French first lady Brigitte Macron, Lisa adopted a sassy smart casual look. She wore a short sleeved jacket in black and white stripe and a matching skirt from Celine's spring/summer 2023 collection, paired with the brand's verneuil jodhpur boots.
9. All-black Celine outfit at PFW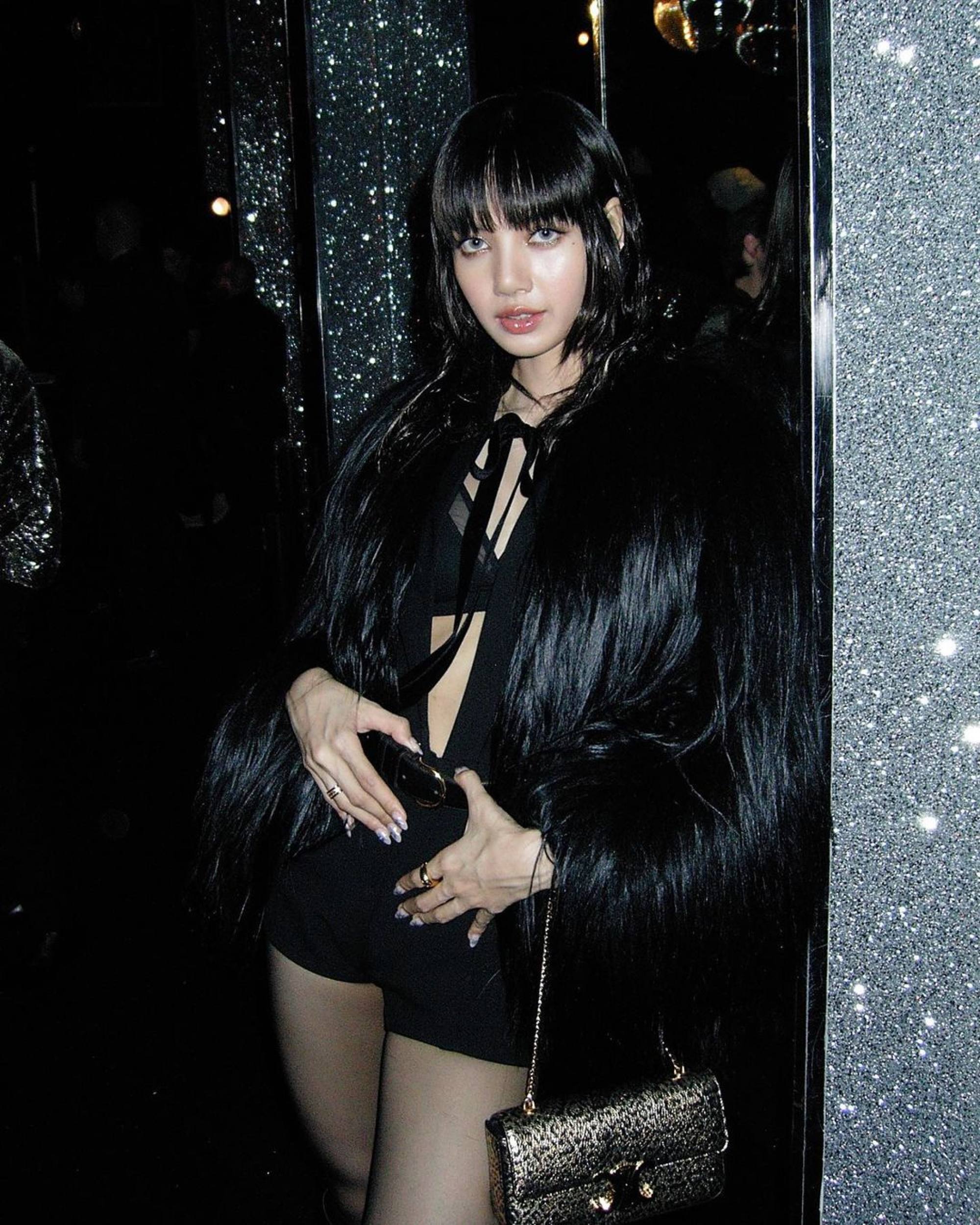 At Celine's recent winter 2023 menswear show in Paris, Lisa made a bold statement with her all-black outfit. The K-pop star exuded dark elegance in a black feathered jacket layered over a black playsuit, finished off with black knee-high boots.
She completed the look with a stand-out accessory – Celine's Triomphe shoulder bag in leopard print – and adorned herself with the brand's stunning jewellery. The gothic-inspired look is one we will be thinking about for a long time.
10. Lisa's street casual by ADLV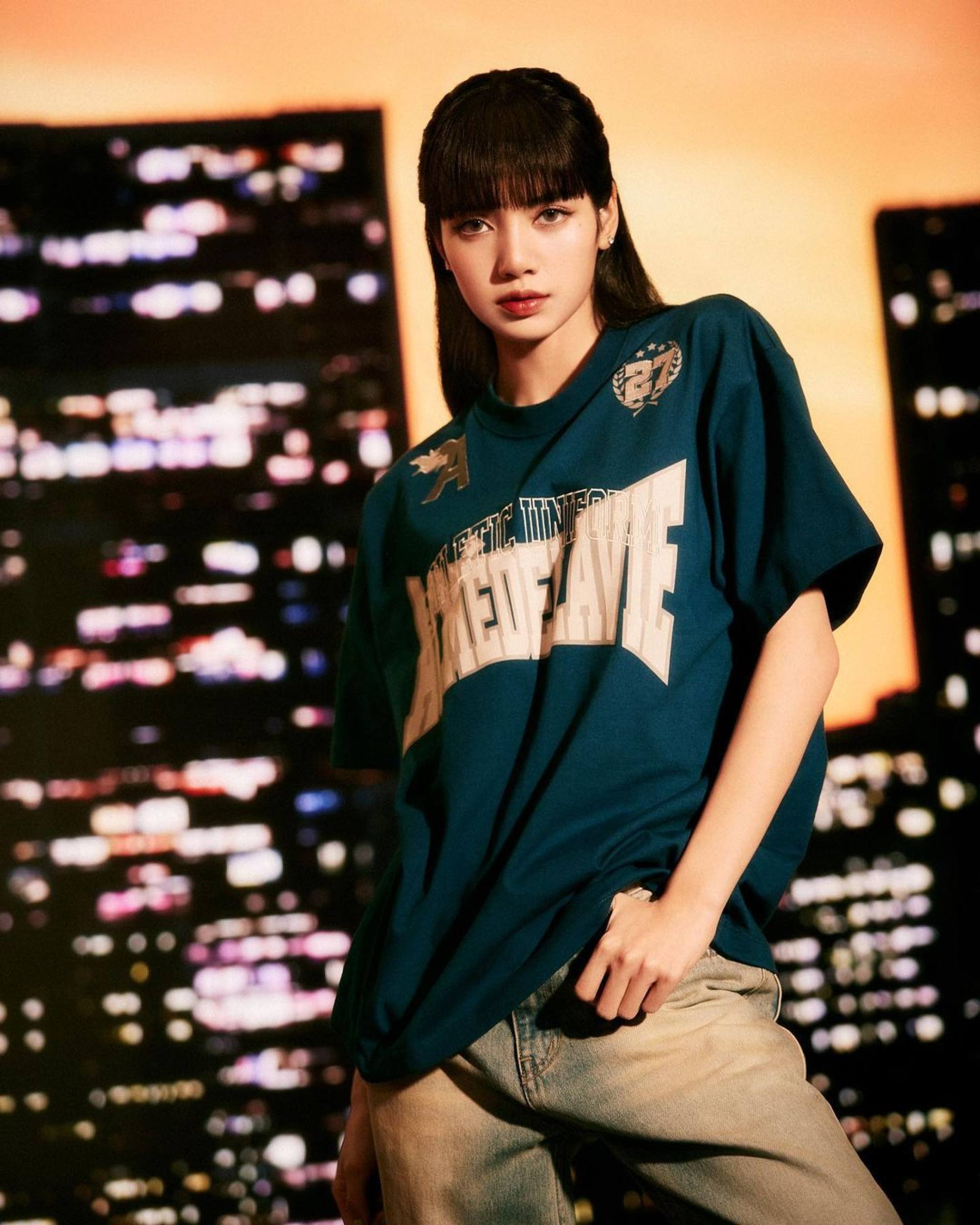 One of Lisa's more recent brand partnerships was with Korean streetwear label ADLV (Acmé de la Vie) and in a series of Instagram posts in early February, the hallyu icon shared several casual looks, rocking a sporty, short sleeved T-shirt and a mesh knit hoodie in beige.
11. Oversized jersey jacket by Celine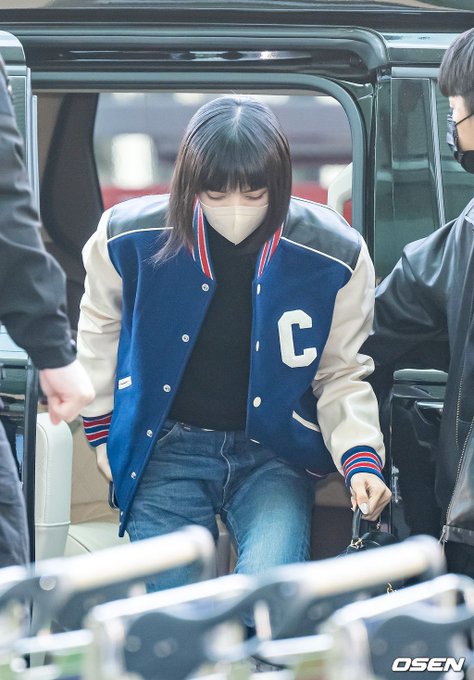 Lisa's love of oversized clothing was on full display during a recent sighting at Incheon Airport, where she effortlessly rocked Celine's textured wool teddy jacket, and paired it with the brand's jeans and white block trainers.
12. Her bold winter piece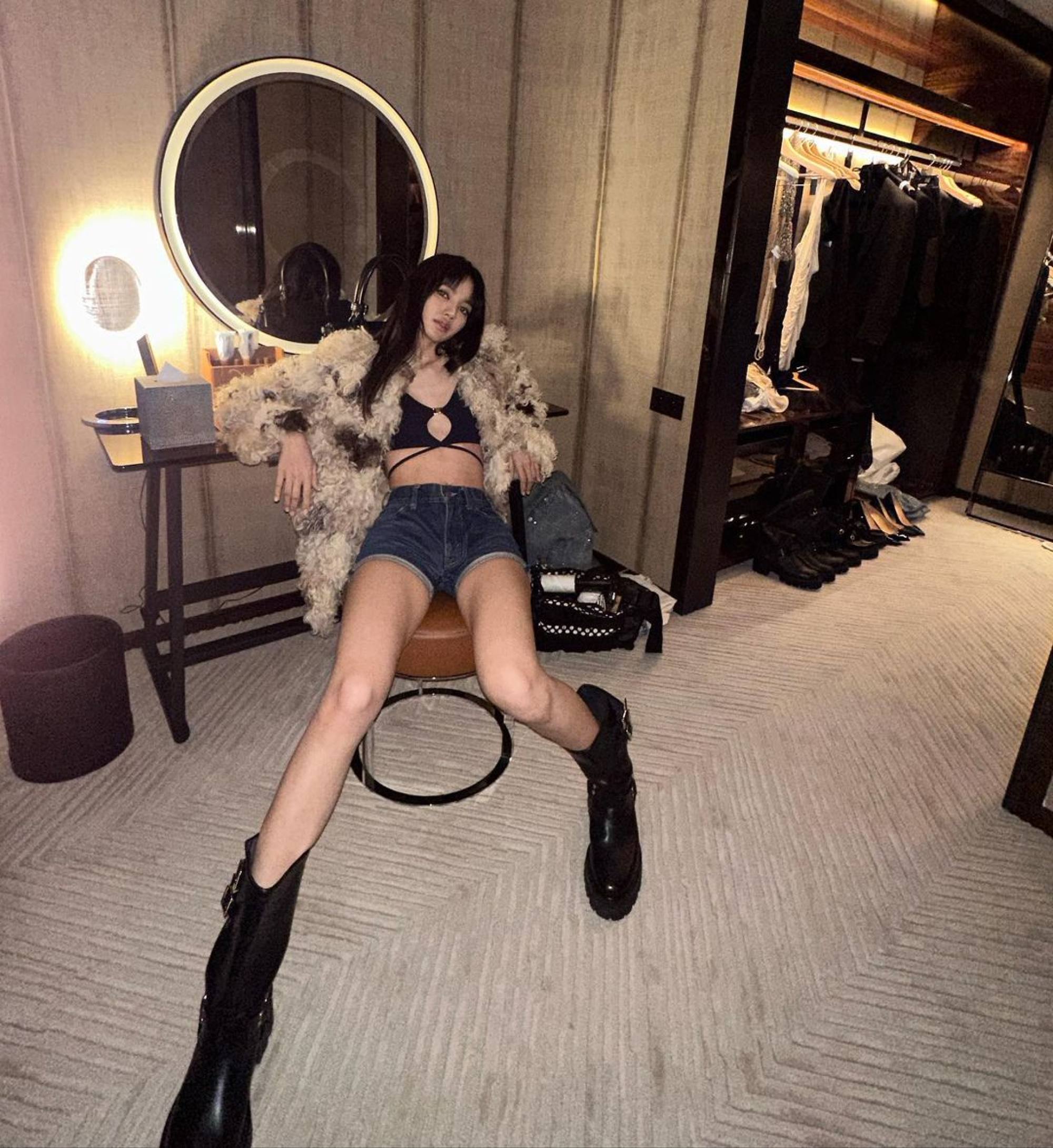 One thing's for sure – Lisa knows how to pull off sexy clothing whatever the weather. In her recent Instagram post, the Thai star draped Celine's cosy faux fur coat over a black bra and paired it with denim shorts. She wore the look for her Madame Figaro cover shoot.